The legal team at Chicago Traffic Law Group is ready to help you with your Woodridge, Illinois ticket!
Keeping your record clean since 1978
The last thing you needed was a Woodridge speeding or traffic ticket.

Professional Drivers, TNP & CDL Holders and citizens charged with "must appear" violation have a special interest in avoiding points and increased insurance costs.
We understand the Cook County Court System including the Bridgeview Fifth Municipal District Courthouse.

Every day our lawyers defend motorists across Cook County. Let us put our experience to work for you.
Usually it takes just one call to our office at 1-312-778-8000

or filling out this

simple form letting us know the details of your ticket.
Then our team can start the process of making your Woodridge, Illinois legal headache go away.
Let us

help

you get on with your life.

Cook County has the largest unified court system in the United States, which can make a simple traffic ticket seem complex. At Chicago Traffic Law Group our experienced attorneys understand these complexities and work with a single goal – keeping your record clean! As former prosecutors and public defenders we understand the system and negotiate to achieve the best results possible for our clients.

Because every driver is presumed innocent, and Woodridge traffic or speeding ticket trials can clog a court's busy docket, prosecutors and police will frequently offer reduced charges or court supervision [diversion] to avoid trials.

Many times we are able to achieve these results without the client needing to appear, saving you both time and money. In addition, 99% of the time our lawyers are successful in reducing the ticket to a non-moving violation which keeps it off your driving record, minimizing impact on your insurance rates.


For information on Woodridge TNP tickets please tap/click here

If you are looking for a traffic lawyer in Woodridge, CTLG is the place to go. You can call us at 312-778-8000 for a FREE CONSULTATION or please fill out the form here, and our legal team will be in contact with you shortly.

Once we know the details of your Woodridge traffic of speeding citation our legal team can give you an accurate idea of what types of defense can be used based on the multitude of Illinois traffic cases we have defended.
In most Cook County traffic or speeding ticket cases there will be no need for you to miss work and spend the day in overcrowded courtrooms. Once we know the circumstances of your ticket we will be able advise you of the likelihood of a court appearance.

If you are from out-of-state there may be no way you can make it back to Woodridge, to contest your ticket. Rest assured, Chicago Traffic Law Group can handle your Illinois traffic or speeding ticket case for you no matter what state in America you live in.
Examples of traffic tickets the Chicago Law Group defends in Woodridge:
• Speeding
• Stop Sign
• Failure to Yield
• No Insurance
• HOV/Carpool Lane
• CDL – Commercial Drivers
• Cell Phone/Texting
• Following too Close
• Too Fast for Conditions
• Obstructing an Intersection
• Speeding in a School Zone
• Failure to appear and warrants
• Suspended license
• Suspended registration
Looking for immediate answers to your Woodridge speeding ticket questions?
Call 815-242-2000 to speak with our legal team!
Use the button below to send us your ticket question today!
Woodridge, Illinois traffic and speeding tickets are contested at the Bridgeview Fifth Municipal District Courthouse.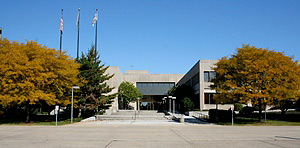 Fifth Municipal District Bridgeview Courthouse
10220 S. 76th Avenue
Room 205L
Bridgeview, Illinois 60455
(708)974-6288
(312)603-6673 TTY
(708)974-6021 FAX